1. LEAD AND INFLUENCE
More people understand NHS fraud, are engaged with the counter fraud agenda and report fraud.
A network of counter fraud champions is embedded in NHS providers.
All NHS organisations are supported in achieving compliance with the Government Functional Standard GovS 013: Counter Fraud (known as 'Government Counter Fraud Functional Standard').
Membership of the Government Counter Fraud Profession is available to the whole NHS counter fraud community in England, with all eligible professionals empowered and supported to become members.
Building relationships with our stakeholders, driving best practice by supporting and enabling the sector to achieve the strategic aims of the national counter fraud response.
Designing our strategy to support and enable the counter fraud response across the NHS.
2. REDUCE FRAUD LOSS
National and local counter fraud activity will result in measurable financial benefits.
We continue to measure value for money in local counter fraud functions for both proactive and reactive counter fraud work.
Targeted intervention by the NHSCFA in partnership with health bodies and counter fraud providers will have delivered measurable results.
Data and technology drive efficiencies in how we work and innovate our services.
3. SUPPORT AND EMPOWER OUR PEOPLE
We will continue to refine our smarter working principles.
Leaders create an open, empowering, and supportive culture, where people feel they add value and are treated fairly.
Our people have access to the training and development they need.
The delivery of our people-related functions will be supported by a newly developed HR advisory function. Our workforce planning will reflect the promotion and support of equality, diversity and inclusion, and mental health and wellbeing.
4. EFFECTIVE USE OF OUR RESOURCES
We consistently deliver financial balance by integrated alignment of financial, business and workforce planning, translating our strategy into effective and resourced deliverables.
We will continue to improve and develop performance and project management approaches to drive delivery of our priorities.
All opportunities to secure additional funding are identified and pursued.
NHSCFA will undertake a programme of evolution and change in order to align our service and support to drive the counter fraud response across the NHS.
We will work with NHS partners to develop shared programmes of intervention and objectives.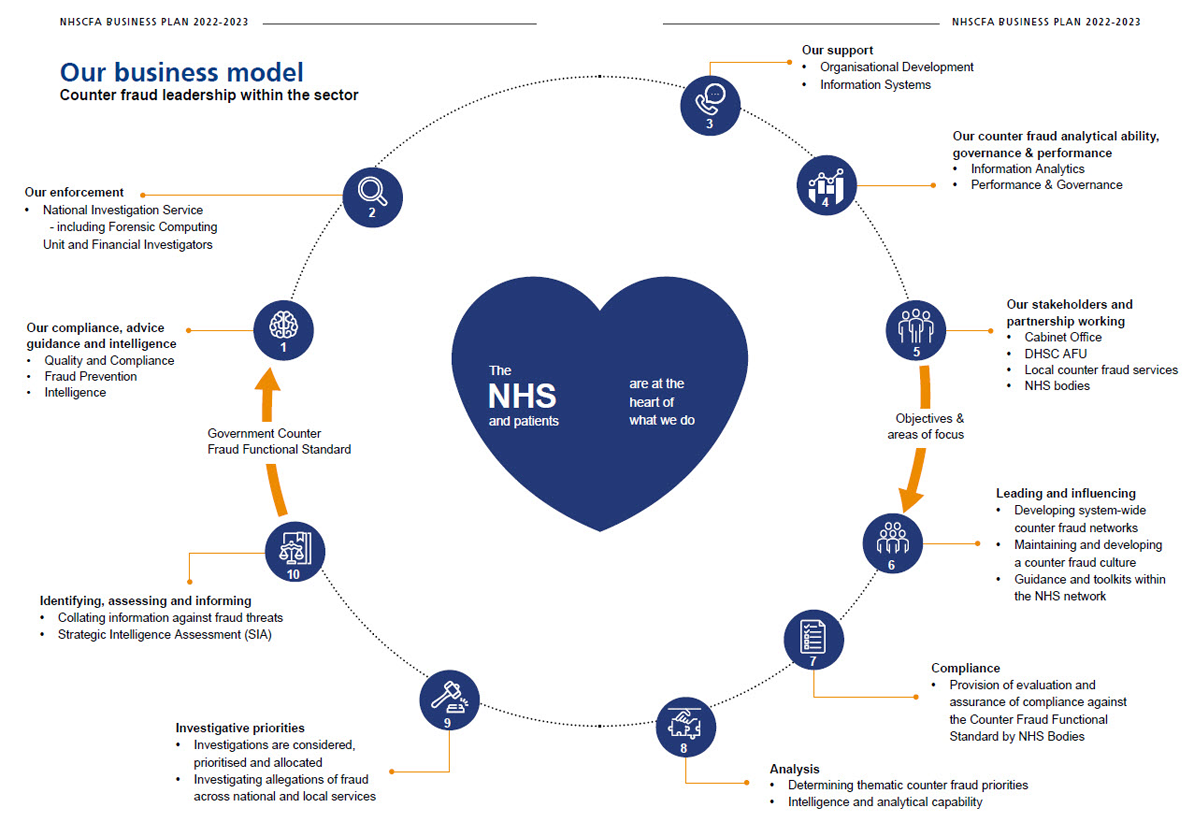 Government Counter Fraud Functional Standards
1
Our compliance, advice guidance and intelligence
Quality and Compliance
Fraud Prevention
Intelligence
National Investigation Service - including Forensic Computing Unit and Financial Investigators
Organisational Development
Information Systems
4
Our counter fraud analytical ability, governance & performance
Information Analytics
performance & Governance
5
Our stakeholders and partnership working
Cabinet Office
DHSC AFU
Local counter fraud services
NHS bodies
Objectives and areas of focus
6
Leading and influencing
Developing system-wide counter fraud networks
Maintaining and developing a counter fraud culture
Guidance and toolkits within the NHS network
Provision of evaluation and assurance of compliance against the Counter Fraud Functional Standard by NHS Bodies
Determining thematic counter fraud priorities
Intelligence and analytical capability
9
Investigative priorities
Investigations are considered, prioritised and allocated
Investigating allegations of fraud across national and local services
10
Identifying, assessing and informing
Collating information against fraud threats
Strategic Intelligence Assessment (SIA)
---