Intelligence and fraud are never static and are constantly evolving. New methodologies are employed, new technologies utilised, and new vulnerabilities exploited. Conversely so is the response to fraud. Loopholes are closed, system weaknesses strengthened, and criminals prosecuted. With this fluid nature, it is important that the strategic priority areas also remain fluid so that the right resources and activity can be focussed in the right area at the right time.
The NHSCFA and its partners have conducted a review of the strategic priority areas during this reporting period. As a result of the review, the strategic priorities have been realigned to the current fraud landscape.
Whilst the budget for the NHS in England continues to rise to meet demands and pressures, it is even more important to ensure that the focus is in the right areas.
In addition to the review, the NHSCFA has evolved its Control Strategy approach further enhancing the response to fraud. This approach consists of an annual review of the intelligence picture, risk landscape and financial vulnerabilities. Together these inform the newly designed integrated planning approach and annual strategies to bring all stakeholders and partners together in a more collaborative manner.
Control Strategy approach
Here we have the depicted infographic of our Control Strategy approach with Covid-19 and cyber enabled fraud that cut through and cover all the thematic fraud areas.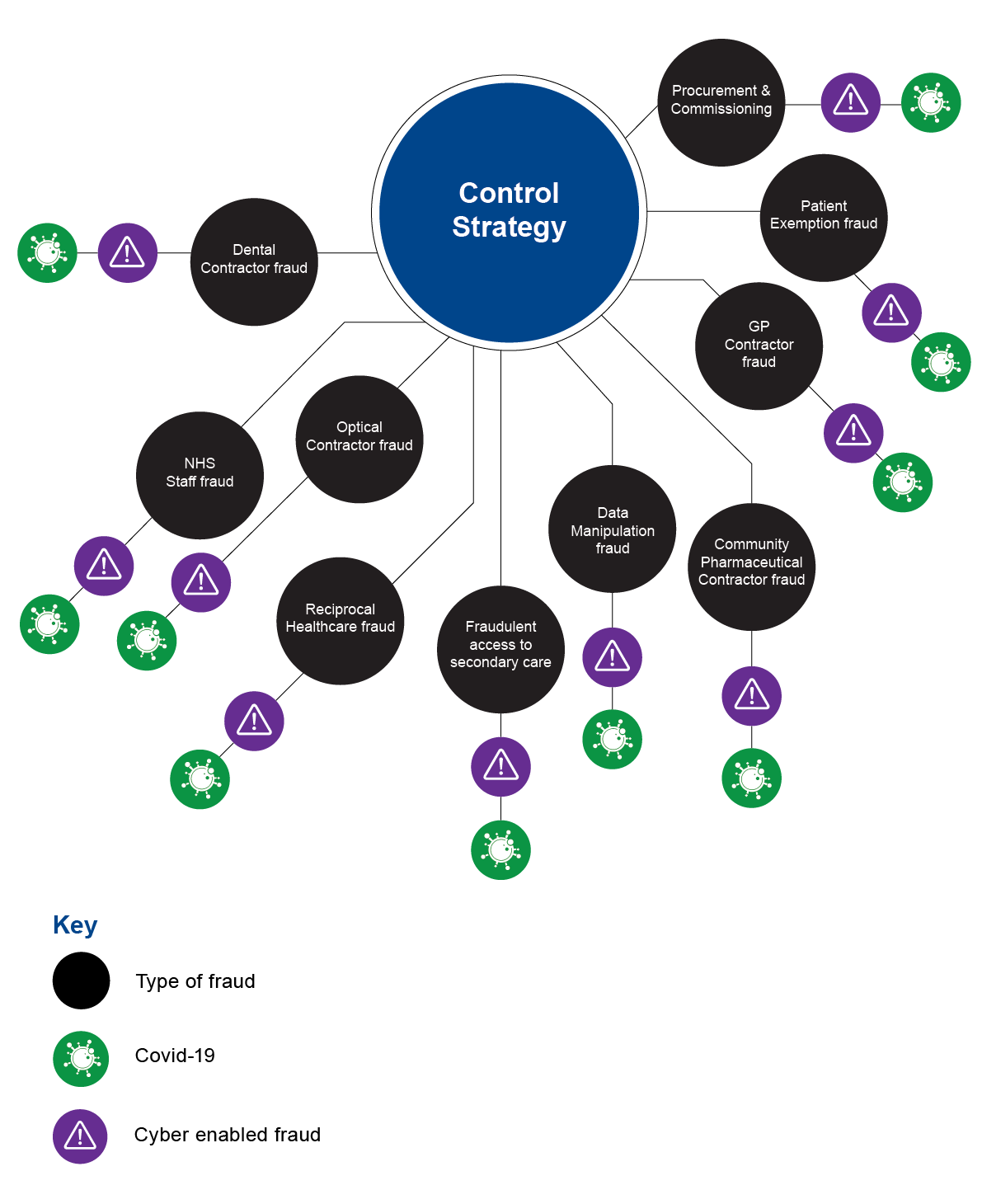 | Type of fraud | Cyber enabled fraud | covid-19 |
| --- | --- | --- |
| Procurement & Commissioning | Yes | Yes |
| Patient Exemption fraud | Yes | Yes |
| GP Contractor fraud | Yes | Yes |
| Community Pharmaceutical Contractor fraud | Yes | Yes |
| Data Manipulation fraud | Yes | Yes |
| Fraudulent access to secondary care | Yes | Yes |
| Reciprocal Healthcare fraud | Yes | Yes |
| Optical Contractor fraud | Yes | Yes |
| NHS Staff fraud | Yes | Yes |
| Dental Contractor fraud | Yes | Yes |
Throughout this document assessments and judgements are presented based on the foundation of intelligence. It is important to note that intelligence is not fact or evidence, but hypothesis and inferences drawn from the best available information at the time of writing. It is the responsibility of every member of the public and NHS employees to remain vigilant and report any suspicions to the Local Counter Fraud Specialist or direct to the NHSCFA. By reporting suspicions, we can all assist in ensuring the NHS remains one of the top health services in the world.
---