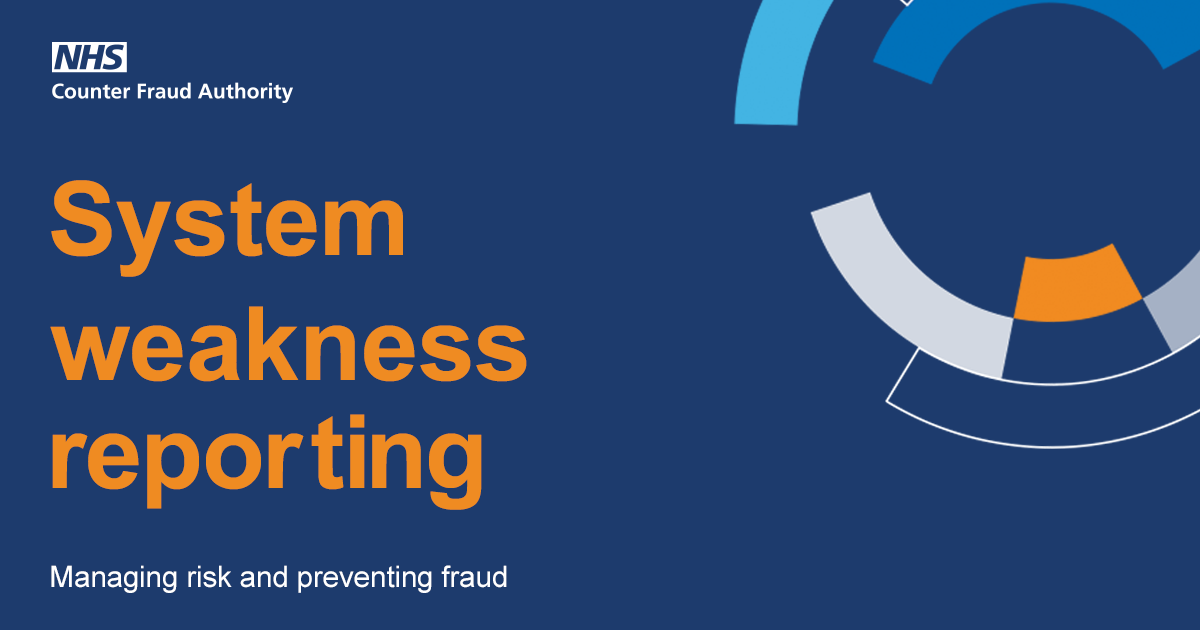 The NHSCFA's Fraud Prevention Unit (FPU) launched a new system weakness referral process in December 2019. By 'system weakness' we mean an inadequate level of controls, or a lack of controls, which creates an environment that increases the risks and opportunity for fraud to be committed against the NHS.
The new process targets fraud risks, threats and vulnerabilities that Local Counter Fraud Specialists (LCFSs) and the NHSCFA's investigators identify in their system weakness reporting following an incident or investigation.
The NHSCFA uses system weakness referrals reported through its case management system to assess the risks and determine what action, if any, is required. These risks are then addressed by the issuing fraud prevention notices (FPNs), which include guidance on effective solutions and recommended mitigating actions for NHS organisations and those organisations providing NHS funded services to take at a local level.
Systems weakness referrals and prevention guidance are also used to update the NHS Fraud Reference Guide, which has been developed to raise awareness of the different types of frauds affecting the NHS and encourage staff and the public to remain vigilant and report suspicions of fraud.
The process is described in detail in the NHS counter fraud manual, which is available on the NHSCFA Extranet (this is available to authorised users including LCFSs and Directors of Finance/Chief Financial Officers). The NHSCFA will continue to work together with NHS organisations and LCFSs to ensure that this new process is a success.
Andrew Masterman, Fraud Prevention Lead, said:
"The value of this new approach is that it is a truly collaborative process between the NHSCFA and NHS organisations in the fight against NHS fraud. It uses reported systems weaknesses to identify emerging fraud risks, threats and vulnerabilities and to issue prevention solutions to assist NHS organisations in safeguarding NHS funds from fraud".