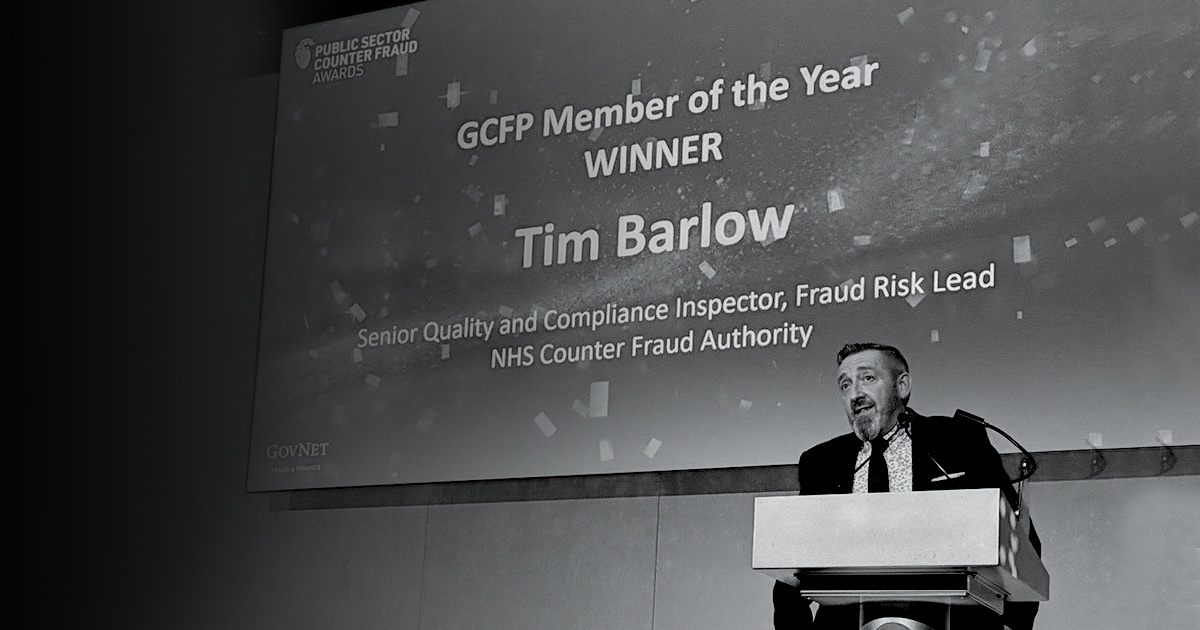 A number of our colleagues played significant parts at the Public Sector Counter Fraud Awards 2022 ceremony last night, where the Comms team submitted four applications and the NHSCFA was shortlisted for 2 awards.
We are thrilled to announce that, despite a great deal of very high profile competition from the entire Counter Fraud profession, Tim Barlow won the Government Counter Fraud Professional (GCFP) Member of the Year award for his hard work and contributions on the fraud risk assessment and the Fraud Risk Knowledge Hub, much of which was achieved at the height of the pandemic.
Richard Rippin was quoted in the submission for Tim's nomination "the scale of Tim's success in such a short timeframe, the pride he shows in the specialism of FRA and how widely he shares and applies his learning, deserves recognition".
Ian Buckingham, who shaped the submissions, paid tribute to Tim's passion around commitment to protecting NHS resources, highlighting his strong brand advocacy and interpersonal skills: "Tim is passionate about protecting the NHS as a beloved brand and believes passionately that every pound of the NHS budget should make to where it's needed most and kept out of the hands of criminals".
A huge well done to Tim, who, clad in tweed, charmed the audience with a motivating acceptance speech and who, judging by the comments on social media is felt by everyone to be very deserving of this accolade as a representative of his colleagues!
Jamie Haywood, Caine Black and Jayson Gall also deserve a special note of congratulations for having been shortlisted for the Partnership Excellence Award which pays tribute to the team's impressive work to implement Clue across the NHS.
This was the first 'in person' event with attendance from the NHSCFA since the pandemic hit, so no doubt all attendees will have been happy to catch up face to face with colleagues, have a little normality and engage in some much needed cause for celebration.
The success of this night was a culmination of a fine team effort across many different parts of the organisation, from comms who organised our attendance and managed to craft four nominations in the space of a day, to Richard Hampton stepping up to represent the NHSCFA on the Clue Panel, Alex Rothwell, who gave out the team award, Tricia and Matt who represented the NHSCFA throughout to Tim and the Clue team whose enthusiasm and dedication has shone through at every step.
Here's to many more awards in the future as we continue to evolve and hopefully lead the way we, and others, fight fraud within the NHS and beyond.