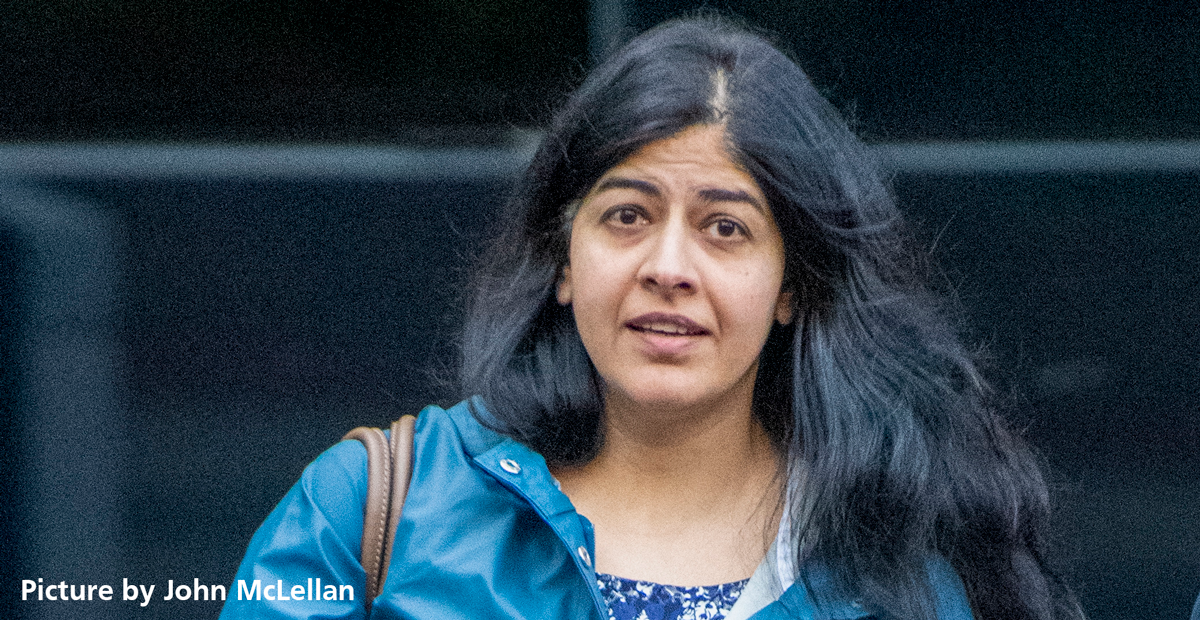 Dr Sheena Lalani (picture by John McLellan)
A fraudulent dentist who owned practices in London and Surrey has been sentenced today at Southwark Crown Court, following a fraud investigation led by the NHS Counter Fraud Authority.
Dr Sheena Lalani (46) of Kennington Road, London, defrauded the NHS of over £74,000.
She was sentenced to 20 months' imprisonment suspended for two years, ordered to carry out 250 hours of unpaid work, given a 20 day rehabilitation order and ordered to pay £662.00 of NHSCFA costs within 3 months.
Dr Lalani fabricated claims in order to increase the money she was paid by the NHS in respect of real patients, and also backdated claims.
The dentist earlier pleaded guilty at Westminster Magistrates Court. The CPS charged Dr Lalani with fraud by abuse of position, an offence under the Fraud Act 2006.
The investigation started thanks to a call to the NHSCFA's Fraud and Corruption Reporting Line (FCRL), run by Crimestoppers. The dentist was reported as only attending her Westminster surgery Gentle Dental for two days a week, when it advertised dental services as five days a week.
Dr Lalani paid back the money shortly before sentencing, and only when the NHSCFA was about to start a confiscation investigation under the Proceeds of Crime Act (POCA) 2002. The payback figure was raised to £87,298.37 to account for inflation. She would have had to be pay this amount under POCA, but that process is no longer necessary - a saving to the public purse.
Lalani held contracts with the NHS to provide dental services from her two practices: Gentle Dental Care, 12 Chapter Street, Westminster, London and Maycroft Dental Centre, Chobham Road, Woking, Surrey. After the fraud investigation started, she relinquished the Maycroft contract.
When interviewed by NHS investigators Lalani argued that if she owed the NHS money it was only due to poor administrative practices, and her record-keeping being in 'confusion and disarray' at times, not dishonesty.
This did not explain the scale of problem. When the investigation compared payments data with patient records from Gentle Dental, it showed Lalani had submitted 378 fraudulent claims over three financial years (April 2014 to March 2017). Thus she gained (and the NHS lost) over £74,000 that she was not entitled to.
The majority of Lalani's false claims were for procedures that attract the top rate of payment to a dentist from the NHS. The evidence indicated a calculated exercise by Lalani to boost her revenue from the NHS with false claims – it could not have happened through error.
Examples of evidence gathered included:
Alteration of dates on record cards, treatment plans and other documents
Claimed appointments and treatments without supporting documentation
Witness statements from patients who never received claimed treatments
Dental laboratories unable to provide evidence of making devices Lalani claimed for
Five times the normal number of top-rate claims for payment from NHS
Excessive claims right at the end of the financial year, for five years running
Claimed to have performed 45 treatments in one day
Richard Rippin, Head of Operations at the NHSCFA, said today:
"The great majority of dentists are skilled, honest, hardworking professionals who put their patients first. When Dr Lalani abused her trusted position by falsifying claims and claiming for work not done, she not only defrauded the NHS but let down the dental profession. It is quite possible that, had she not been caught, the scale of the debt and the crime would have increased exponentially.
"Over the last 18 months, the NHS has been under unprecedented pressure, with resources being stretched to the limit. We and our partners in the NHS work hard to ensure that these NHS resources are protected. Today's result shows the dedication of the NHSCFA's National Investigation Service, bringing those who abuse the NHS to justice. We are here to detect and investigate those who commit fraud and will seek all forms of redress. We urge anyone who suspects someone of defrauding the NHS to report them to us."
The sentencing judge said that NHSCFA had done "a great deal of work… Lalani's fraud was sophisticated, well thought out and well executed".
If you suspect that anyone is committing fraud or another economic crime against the NHS, tell NHSCFA about it – you can visit our main website to report online: www.cfa.nhs.uk or telephone our 24-hour reporting line 0800 028 40 60.
"NHS fraud. Spot it, report it, together we stop it"
For more information contact the NHSCFA press office media@nhscfa.gov.uk.
Notes to Editors
The NHS Counter Fraud Authority is a Special Health Authority established under the NHS Act 2006 as amended. It is sponsored by the Department for Health and Social Care, accountable to the department's Anti-Fraud Unit (AFU).
The NHSCFA assess that the NHS vulnerability to fraud, bribery and corruption leads to an estimated loss of £1.14 billion (2019-20).
When NHSCFA uses the term 'fraud', we refer to a range of economic crimes, such as fraud, bribery, corruption or any other illegal acts committed by an individual or group of individuals to obtain a financial or professional gain.
NHSCFA also supports the work of the NHS Counter Fraud Service (Wales).
NHSCFA works closely with NHS Local Counter Fraud Specialists across the NHS in England to ensure that healthcare crime is tackled, and a culture of fraud prevention and deterrence is in place.
NHSCFA works collaboratively with NHS Scotland Counter Fraud Services on fraud issues.
There are some 300 professionally trained and accredited Local Counter Fraud Specialists in place within health bodies across England and Wales.