Our operating model, developed under our Evolution and Change programme, has been a major force running through our previous strategy. As we enter our new strategic period, there will be a renewed focus on stakeholder engagement with the aim of delivering an enhanced counter fraud response across the NHS and wider health sector. This includes ensuring we deliver the right things in the best possible way and at the highest quality, whilst remaining within our existing budget. The business model below sets out how this works in practice.
Key features are as follows
Enhanced intelligence capability, strengthening how resources could be better utilised, key partners better engaged with and functions aligned.
The concept of a Fraud Hub focused on supporting, enabling, assisting, and guiding health bodies on fraud – bridging the gap between our national fraud response and the local counter fraud response. Harnessing existing resource and continuing our efforts to engage with our key counter fraud community partners to understand the barriers and challenges to fighting fraud in the sector.
A strengthened investigative team structure within the National Investigation Service (NIS), with the development of a quality management system for enforcement and enhancing the approach to financial investigation and use of financial intelligence.
A strengthened fraud prevention function, aligning to the Fraud Hub , incorporating elements of deterrence, and keeping up to date with policy and systemic changes in the NHS through horizon scanning.
Enhanced planning, strategic development, and support to the NHSCFA's strategy. Centralisation of data analytical functions in relation to oversight of techniques, data, resilience, and skills and enhancing our capability to identify potential fraud using latest innovations.
Enhancing and strengthening business support functions to fully support organisational aims and objectives. Incorporating resilience and cover whilst aligning and embedding with the NHSCFA's integrated planning approach. This includes the need for a longer-term estates and IT strategy alongside provision for HR, workforce development and communications.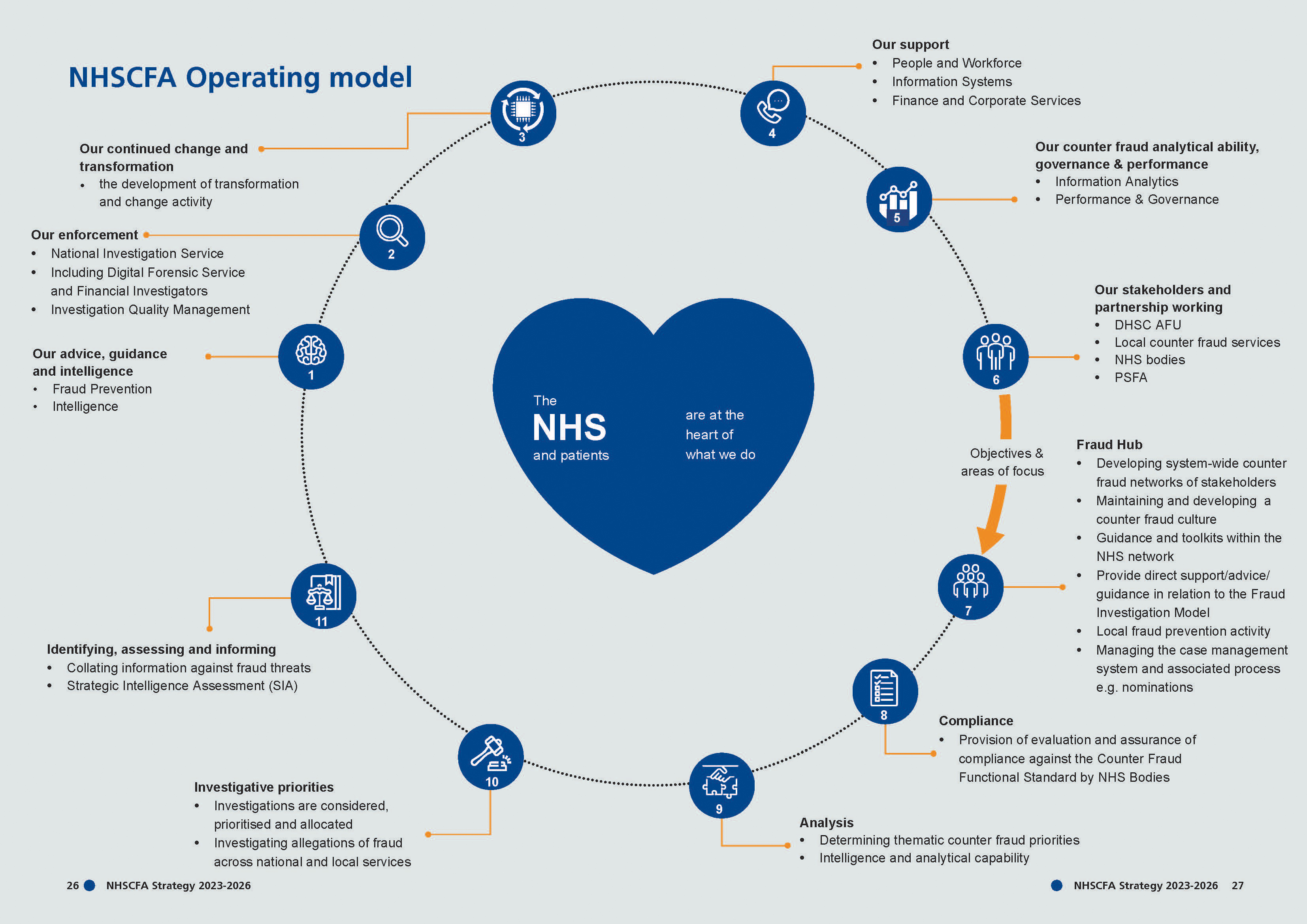 Government Counter Fraud Functional Standards
1
Our advice, guidance and intelligence
Fraud Prevention
Intelligence
National Investigation Service
Including Digital Forensic Service and Financial Investigators
Investigation Quality Management
3
Our continued change and transformation
The development of transformation and change activity
People and Workforce
Information Systems
Finance and Corporate Services
5
Our counter fraud analytical ability, governance & performance
Information Analytics
Performance & Governance
6
Our stakeholders and partnership working
DHSC AFU
Local counter fraud services
NHS bodies
PSFA
Objectives and areas of focus
Developing system-wide counter fraud networks of stakeholders
Maintaining and developing a counter fraud culture
Guidance and toolkits within the NHS network
Local fraud prevention activity
Provide direct support/advice/guidance in relation to the Fraud Investigation Model
Managing the case managment system and associated process e.g. nominations
Provision of evaluation and assurance of compliance against the Counter Fraud Functional Standard by NHS Bodies
Determining thematic counter fraud priorities
Intelligence and analytical capability
10
Investigative priorities
Investigations are considered, prioritised and allocated
Investigating allegations of fraud across national and local services
11
Identifying, assessing and informing
Collating information against fraud threats
Strategic Intelligence Assessment (SIA)
Working with the Department of Health & Social Care Anti Fraud Unit
The NHSCFA provides an essential function as part of the wider health family in the fight against fraud, ensuring tax-payer funds are used to deliver better patient care and not diverted into the pockets of fraudsters. This new three-year strategy will ensure that the NHSCFA understands and keeps pace with new and emerging threats and has the capability to deal with them.
Sean Byrne, Deputy Director, Head of Counter Fraud, Department of Health & Social Care
---