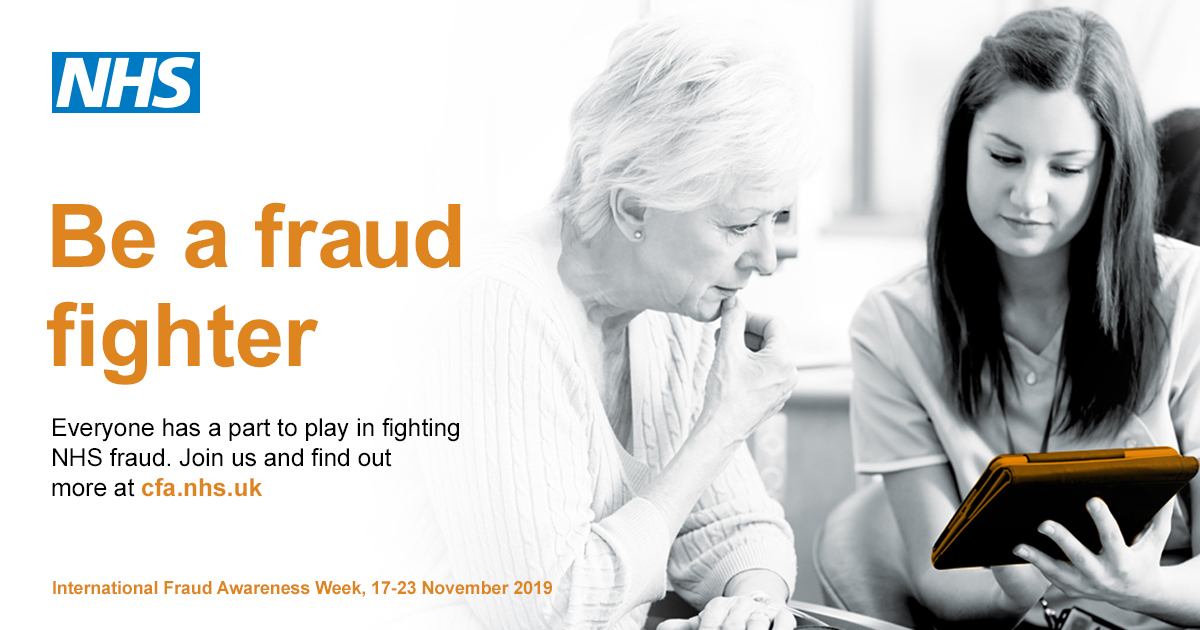 International Fraud Awareness Week (IFAW) is here – from 17 to 23 November 2019, hundreds of organisations around the world are joining this global initiative to raise awareness of fraud and highlight the importance of fraud prevention.
Fraud is estimated to cost the NHS over £1.2 billion each year. This is enough money to pay for over 40,000 nurses, or 5,000 frontline ambulances. When the NHS becomes a victim of fraud, this means a loss of vital resources intended for patient care. For us in the NHS, initiatives like IFAW are a reminder that we are not alone in facing the threat of fraud, and that by working together we can do something about it.
This year the NHS Counter Fraud Authority (NHSCFA) is running a campaign to help organisations across the NHS take part in IFAW by increasing awareness of NHS fraud among their people.
Have a look at our campaign toolkit, which includes sample content for NHS organisations to use in their local communications, new banners and posters, and a new animation showing how fraud affects the NHS in the context of its wider impact.
The central messages of the campaign are that everyone has a role to play in fighting NHS fraud, and that the first step in fighting fraud is knowing how to spot it. To find out what NHS fraud is and see some examples, visit our updated What is NHS fraud? page.
We encourage all organisations to use the resources in our campaign toolkit, and the information on our website, to promote fraud awareness among staff and therefore equip them to 'Be a fraud fighter'. Anyone can join the fight against NHS fraud by being vigilant, knowing how to stop fraud and reporting any suspicions or concerns.
You can report NHS fraud to the NHSCFA on our website or by calling 0800 028 4060 (available 24 hours a day, 7 days a week). All reports are treated in confidence and you have the option to report anonymously. If you are working in the NHS or providing NHS services, you can also speak to your Local Counter Fraud Specialist, who will be able to provide advice and support on NHS fraud.
Joining a global initiative like IFAW also serves as a reminder that everyone can become a victim of fraud, both individuals and organisations, whether in the public or the private sector. For more information on how to protect yourself from fraud, visit Action Fraud.
If you have any questions about IFAW, or how to use our campaign toolkit, please email comms@nhscfa.gsi.gov.uk. We hope you will join us in fighting NHS fraud.